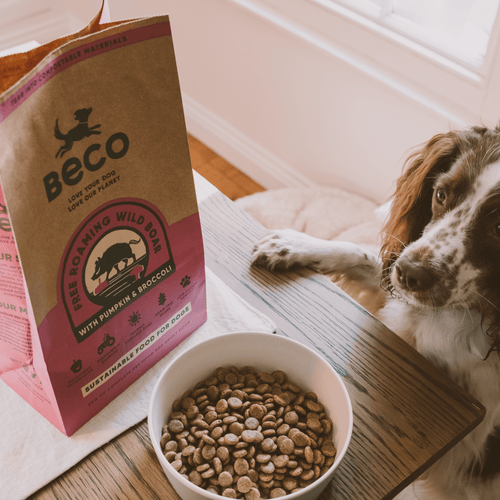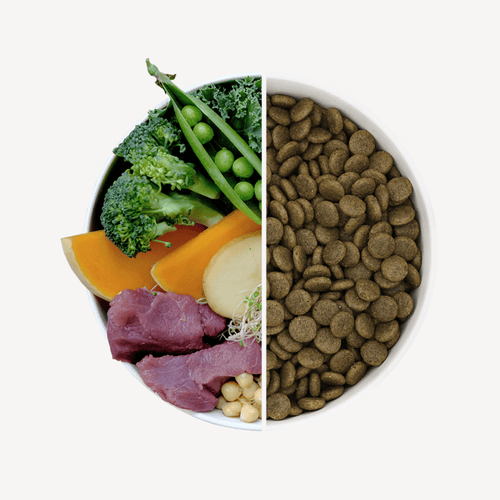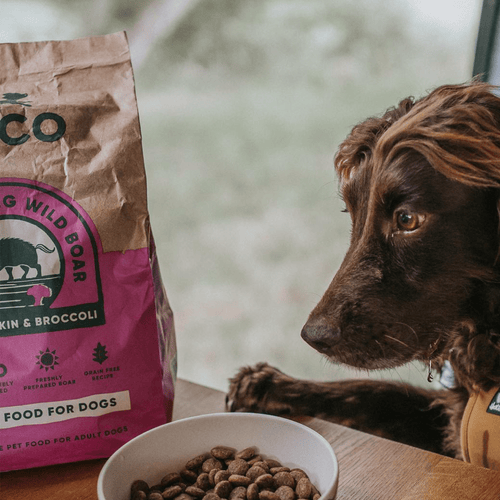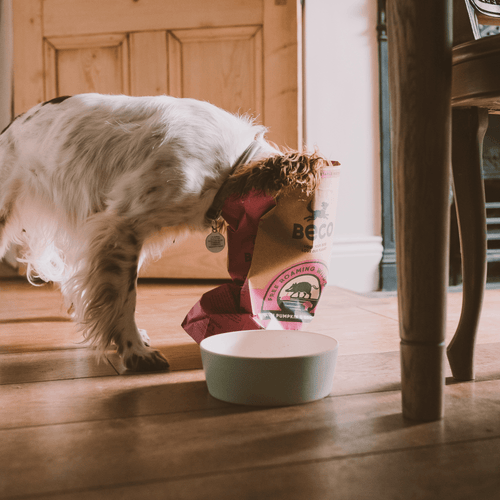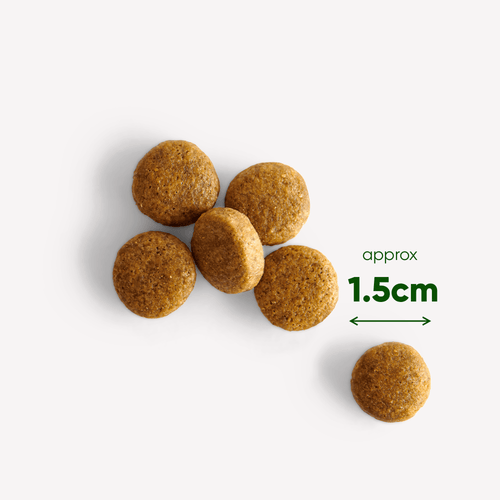 Wild Boar with Pumpkin & Broccoli
Wild boar is high in digestible protein and hypoallergenic with a taste that dogs love. This grain-free recipe is filled with freshly prepared boar, vegetables and superfoods. Nothing artificial. All our ingredients are cooked at low temperatures to maximise digestibility to lock in their flavour and nutrients.
Thanks for registering interest we'll be in touch as soon as this product comes back into stock.
Freshly Prepared Wild Boar (40%)*, Potato, Peas, Field Beans, Pea Protein, Chickpeas, Duck Fat, Lucerne, Brewer's Yeast, Minerals, Vegetable Gravy, Chicory (10mg/kg), Pumpkin (10mg/kg), Freshly Prepared Free Range Egg, Spirulina (10mg/kg), Camomile, Broccoli (10mg/kg), Milk Thistle Seed.
Analytical Constituents
Crude protein 21%, Crude fat 13%, Crude Fibre 4%, Crude Ash 6.5%, Moisture 8%, NFE 47.5%, Metabolisable Energy 363 Kcal/100g, Omega-6 1.5%, Omega-3 0.1%, Calcium 0.8%, Phosphorus 0.4%
Wild Boar
Wild boar's carbon footprint is 98% less than beef thanks to their foraged diet and lack of agriculture throughout their lives.
Broccoli
Broccoli is a true superfood. It's filled with vitamins, fibre and potassium, all key nutrients for a happy and healthy life.
Pumpkin
Pumpkin is super nutritious with a rich source of fibre and a whole host of immune-boosting nutrients.
Spirulina
A spoonful of spirulina is like eating a handful of vegetables. We add a little to this recipe giving your dog the health boost they deserve.
Quality Matters
Full on Flavour and Hypoallergenic
Some dogs can be picky little eaters. Nothing wrong with that though. It just means they know what they like. But wild boar, with its delicious, gamey flavour is loved by even the fussiest dogs. It's also a novel protein which means this recipe is perfect for dogs with common allergies or intolerances to things like beef or chicken.
Cooked Low & Slow
We slow-cook our meals between 90 - 120˚C so every bite contains the same protein, vitamins, oils and flavours of the original ingredients. Not only does that mean they're delicious, it provides a diet that has all the nutrients of a meal served fresh, but with the convenience of dry food.
Responsibly Sourced
Red meat tends to have a high carbon footprint but that doesn't have to be the case. Thanks to their naturally foraged diet, wild lives and lack of agriculture, when you choose wild boar instead of beef, you reduce the carbon footprint of the meat in your dog's diet by 98%.