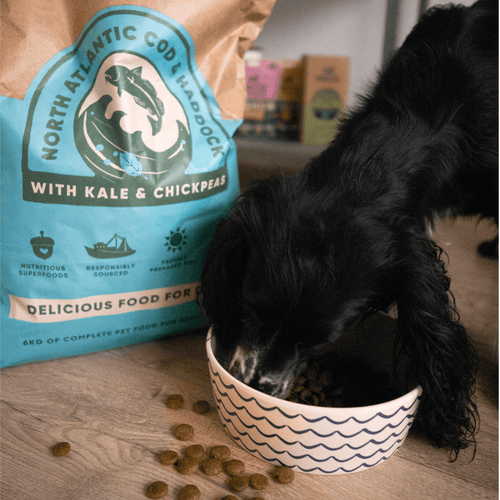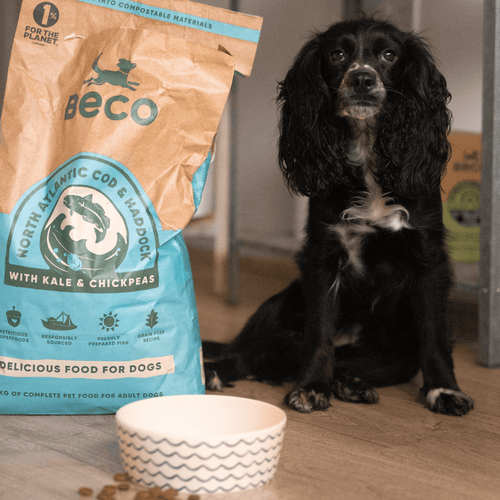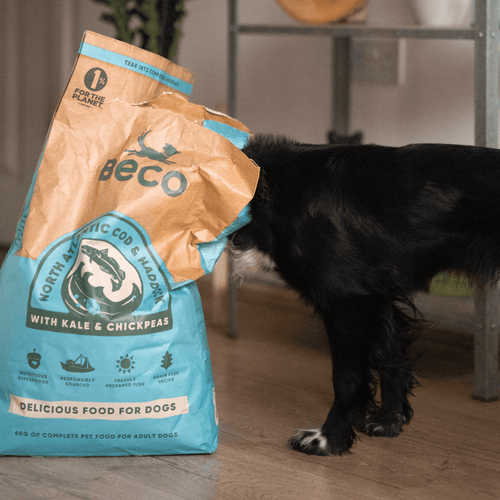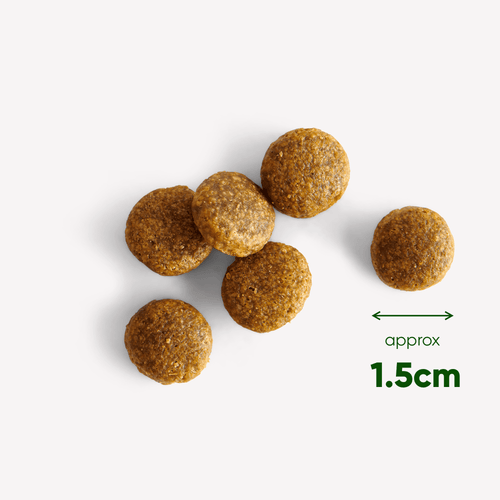 Wild Caught Cod & Haddock with Kale & Chickpeas
This cod & haddock recipe is low in fat and high in omega 3 & 6. It's a grain-free recipe filled with freshly prepared fish, vegetables and superfoods, great for dogs with sensitive stomachs. Nothing artificial. We cook it at low temperatures to maximise digestibility and lock in the flavour and goodness of the original ingredients. The nutritional balance of this recipe makes it perfect for older dogs or those trying to lose some weight.
Thanks for registering interest we'll be in touch as soon as this product comes back into stock.
40% Freshly Prepared Haddock & Cod (Freshly Prepared Haddock 35%, Freshly Prepared Cod 5%)*, Potato, Peas, Field Beans, Pea Protein, Trout Oil, Chickpeas 6%, Lucerne, Brewer's Yeast, Minerals, Rapeseed Oil, Vegetable Gravy, Chicory, Kale (10mg/kg), Broccoli (10mg/kg), Spirulina (10mg/kg), Freshly Prepared Free Range Egg, Camomile, Milk Thistle Seed, Rosehips.
Analytical Constituents
Crude Protein 21%, Crude Fat 10%, Crude Fibre 4%, Crude Ash 6.5%, Moisture 8%, NFE 50.5%, Metabolisable 349.5 Kcal/100g, Omega-6 1%, Omega-3 0.8%, Calcium 1.1%, Phosphorus 0.9%
Cod and Haddock
Wild-caught from healthy fish stocks in the North Atlantic ocean, using fishing techniques to reduce bycatch of other marine wildlife.
Chamomile
Chamomile is naturally relaxing, helping to calm and soothe overexcited or anxious dogs.
Chickpeas
Chickpeas are an amazing source of fibre and protein, helping to build strong muscles and aid digestive health.
Kale
Kale is rich in antioxidant vitamins that help to naturally boost your dog's immune system.
Quality Matters
Low Fat, High Omega's
The natural composition of cod and haddock means this recipe has only 10% crude fat so it's perfect for dogs that are trying to shed some weight or are less active. It's high in Omega 3 & 6 to help support healthy joints through every stage of a dog's life, whether they're growing, adventuring or relaxing into their old age.
Cooked Low & Slow
We slow-cook our meals between 90 - 120˚C so every bite contains the same protein, vitamins, oils and flavours of the original ingredients. Not only does that mean they're delicious, it provides a diet that has all the nutrients of a meal served fresh, with the convenience of dry food.
Responsibly Sourced
We have specifically chosen wild-caught fish species from fisheries that are deemed to support healthy populations. The Cod and Haddock population from the North Atlantic - FA027, has been monitored by independent bodies and is currently deemed to be productive and healthy.